MARCHE DE LA 101e AIRBORNE
(101st AIRBORNE MARCH)
Cette marche est extraite du CD "Carentan, la Mémoire du ciel" (1994) qui évoque la libération de la ville de Carentan, en juin 1944, par la célèbre division aéroportée américaine. Cette saga locale se nourrit de nombreux témoignages et anecdotes rapportés par les habitants de la région qui ont vécu l'événement.
Cette histoire a fait l'objet d'un mémorable spectacle qui réunit 7000 spectateurs le 12 juin 1994 à Carentan.

"CARENTAN, LA MEMOIRE DU CIEL"


Ce CD de 18 titres (58 minutes) est fourni avec un livret de 16 pages.
Il propose des chansons originales et aussi des grands succès de la Libération : In the mood, Marilou, Fleur de Paris, Marche de la 101e Airborne...
De très nombreux musiciens et interprètes ont participé à ce projet.
Ce CD est disponible en téléchargement chez Virgin, Amazon, Itunes et une quinzaine d'autres sites.

Full downloads here / Téléchargements complets ici : Amazon Itunes Deezer
---


CD "CARENTAN, LA MEMOIRE DU CIEL"
"Carentan, the sky memory"

This popular CD of 18 titles (58 minutes) propose original songs and also big tubes of the Libération period : In the mood, Marilou, Fleur de Paris, 101st Airborn march...
A lot of musicians and singers have carried out this project.
The CD can be downloaded with Virgin, Amazon, Itunes and a lot of others popular internet furnishers.

This great story concerns the Carentan's liberation, in June 1944, by the 101st Airboren Division of the United States Army. This local story brought back many memories to the people who live in this part of the Normandy. Some memories were sparked by songs in the recording. Others were sparked by dialogs and sketches. This was a large performance given in June of 1994.

This March was played for the fist time in Brooklyn, NY (USA) by Ed Gawlinski as part of the 2007 Angels and Accordions performance :
Past the Cherry trees, Ed is playing little known song, the "101st Airborne March". In 1944, the 101st was part of the Normandy invasion during World War II. This march was composed by Daniel Bourdeles, a norman composer, for a june 1994 celebration of Carentan by the 101st. Ed's father, who is buried in green-Wood, served the 101 Airborne during World war II. While this piece has been used in Normandy in french documentaries about World War II, this may have been the fist live performance of this march in this country.
Ed made an arrangement of this march for drum and bugle corps. Drum and Bugle Corps are a North American type of marching band that consists only of brass instruments (bugles). He also wrote an arrangement for string orchestra.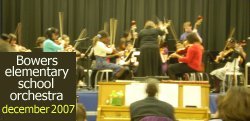 The 6th grade orchestra of the Bowers school playing
the 101st Airborn March arranged by Ed Gawlinski
Thanks to Gaby for translation !
---